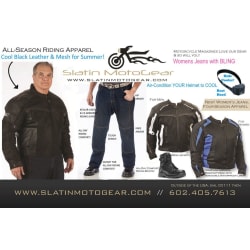 Slatin MotoGear
Blu Snaps are coming! Blu Snaps are coming!!
(saw our ad in Rider Magazine?  Click <here>) ...and be sure to read Our Fair Shipping Policy (menu selection, above); just another way we save you money!
We  sell to the USA, Canada, and *Australia!  Our Goal is to provide high quality motorcycle gear and apparel at a Price ALL Riders Can Afford!  When you write to us, we act on your comments, like in the following email we received. "05/02/2018-- Jacket received yesterday and rode in today. Fit is perfect, warm enough to take out the liner, and comfortable. Wore long sleeve shirt under it, can't wait to ride with a short sleeve shirt to be more comfortable."  --Fred Farber But this story doesn't end there.  Fred found that he needed a liner from us. I asked him to return the liner he had so I could examine it for flaws or defects.  I'm not perfect and might have missed something in the garmet.  Within days I had the liner from Fred and he was right to return it.  I sent a replacement out immediately and got the following email from Fred: "I LOVE THE RIDING JACKET! Thanks for replacing the liner.--Fred
Be Cool in the Hot Summer Heat with BLU SNAP! 
Those of you who wear helmets know how hot wearing it gets in the heat. Its exhausting and draining, to say the least.  But, if your head is cool and feels cool, you just feel better.  Also, you think better, have faster response, and the blood circulating in your head cools and takes that cooling to other body areas. This is a minaturized evaporative cooler that attaches to the front lower part of your helmet.  It's called "Blu Snap", because if needed, it will just snap-off the helmet, as easily as it snaps-on.  (For safety and DOT compliance purposes). Its not in the wearer's vision field nor does it weigh much of anything.  It's electrical-powered via a micro-usb cable and the charge lasts ten hours.  The water lasts about two hours, and it even filters out dust in the air.  Most importantly, you get a high volume of cool air right in your helmet and it never fogs!  Yep, the doggone thing really works and really works well.  Best yet, it weighs almost nothing, and if was any cooler-blowing, you could get a brain-freeze! In keeping with DOT standards, it is not permanently attached to the helmet, but snaps on and off; which can be one reason its called '"Blu Snap."
WIN a FREE 'Blu Snap'!! Enter the SMG Contest today, because somebody has to WIN!   Our Newest Jackets reviewed below!  Heavy Duty Magazine, Australia  January, 2018 LOOKING FOR LEATHER? CLICK ON THE BELOW REVIEW TO GO TO THE ALL-BLACK LEATHER & MESH JACKET
Only at Slatin MotoGear, can you count on SuperFabric being used in most of our jackets.  Why?  It's used by the US Military and NASA (yes, the space agency).  Read about SuperFabric <here>. Rider Magazine, February, 2018  "Slatin MotoGear's SMG-1 Four Season Jacket offers quality materials and great features for the price."
"MC Tested: Slatin MotoGear's $200 SMG-1 Motorcycle Jacket...The Slatin SMG-1 is one of the best budget jackets we've ever tested." --Motorcyclist Magazine  Check out our other great gear! All-Black, Leather/Mesh Jacket
Only $235, compared to $399! Now in Australia!
Editor Neale Brumby, Heavy Duty Motorcycle Magazine in Australia              wearing our new All-Black Leather & Mesh Riding Jacket
Check out our Kevlar Lined & Armored Blue Jeans Only $99 compared to $159 (Customer Russ Dowling says about our jeans:  "I got my Jeans today and took them for a test ride.  2 words.  LOVE THEM.  Thanks!" 10/21/2017)   We have a low overseas shipping rate! READ WHAT ELSE TOP MOTORCYCLE MAGAZINES SAY ABOUT SLATIN MOTOGEAR! RIDER * CYCLE WORLD * MOTORCYCLIST * BAGGERS*  HEAVY CRUISER  
PLUS:  Real Reviews! 09/12/2017
Anti-Vibration Gloves.  Just received my Mesh Gloves! Great fit, good protection. Thanks for another fine product! Jonathan Ezequelle
08/26/2017
Kevlar-Lined Jeans. Washed in cold water, installed all pads and took brief ride, temperature 95 F. Felt like Arizona!  Pads remain in place, jeans fit well, without excess of two other pair I have. No binding getting on, riding and dismounting.  Fell warmer than my old protective kevlar lined riding jeans without ce pads.  Could be that 95 F is about 10 F over our norm here in art Bay Area. So far, so good. Thank you.  Leonard
08/26/2017
Kevlar-Lined Jeans. Got my Kevlar & Armor Riding Jeans... wore the jeans today. Worked great! Thanks!  Richard Haas
09/22/2017 Kevlar-Lined Jeans. Thanks Richard for the Jeans they definitely have a terrific design to them with the protection pads inside them again thank you I'm sure I will wear them on all the trips on my Harley.  Tom Reid
Do you have hand pain when you ride?  We now carry Certified Anti-Vibration Gloves!
Stats
Karma: 0
Sponsor Rating: None yet
---