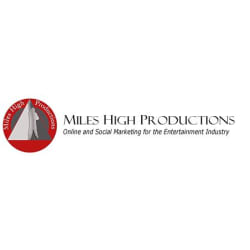 Miles High Productions ( website)
Miles High Productions (MHP) was created to bridge the gap of companies working directly with music artists and entertainment based projects who are in need of additional marketing support. MHP also focuses on non-music ventures such as corporate brand building, cosmetics, gaming, sports and other industries. MHP's goal is to elevate your product or artist to a higher ground in an expedient timeframe by exposing them to new and existing online audiences. MHP also focuses on taking our campaigns one step further by cross-promoting all traditional methods of marketing with online opportunities for further outreach.
Chip Schutzman formed MHP in July of 2003 after observing a gradual lack of efforts made to effectively promote artists online. Sometimes limited resources to market artists in a traditional sense and the results are minimal based on today's trends in downsizing of companies and lack of resources. MHP's list of services to music labels, artist management and artists and to other companies are a complement or supplement to co-existing traditional marketing plan strategies.
Stats
Karma: 104
Sponsor Rating: 75/100
Connect
Sponsored Giveaways
---