Back Porch Talkin Country Exchange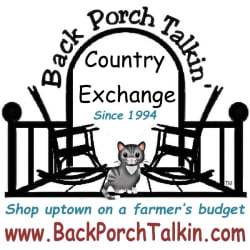 Back Porch Talkin Country Exchange
Shop uptown on a farmer's budget. Unique, quality home, garden decor, gifts, kitchen gadgets, furniture Huge selection. $19.95-$49.95 or less everyday! What started out as a one product mail-order business in 1994, filling folk's order on our kitchen table with a rickety old typewriter, now has grown into a specialty-farm-to-table country general store located on our family owned-operated farm of over 100 years featuring over 1000 unique, fine quality items for your home and garden at reduced prices, saving you up to 80% off retail everyday. Nice things shouldn't cost an arm and a leg. We always tell folks, at Back Porch Talkin' Country Exchange, you can shop uptown on a farmer's budget.
As farmers we know about hard work and pinching pennies. We also know about treating folks with respect, sharing a smile, some laughter, and yep, a bit of back porch talkin'.
We raise cows, grow grain crops, have horses, ducks, and 46 laying hens that provide organic farm-fresh eggs sold in our general store, along with garden fresh vegetables, herbs, and coming soon, artisan baked breads and home-made cheeses and soaps. We sure hope you visit our web site at www.BackPorchTalkin.com and if your ever in our neck of the woods, stop in, we sure like to visit with you on our back porch talkin'.
Stats
Karma: 380
Sponsor Rating: 100/100
Connect
Sponsored Giveaways
---