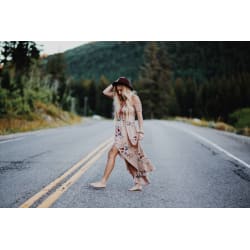 More details:
Winner did not receive prize
1 Comment
Giveaway: Your Inner Goddess is in Bloom
(Delivered)
It's spring! A time of renewal, transformation & growth-
Win our Goddess OSHUN maxi and feel the goddess within you shine!
Prize: Goddess OSHUN ✺ off the shoulder maxi
Estimated Value: $85.00
"The only way to make sense out of change is to plunge into it, move with it, and join the dance."
Universal love & compassion is what OSHUN the African Goddess represented. She resides in the flow, in fact she is the flow herself. Our OSHUN maxi brings all the traits of this Goddess along with it. Grace, fluidity, movement; the art of Flow.  This design features:
Off the shoulder sleeves Empire waistline Fitted on upper body and flares and waistline Underlining to the mid thigh Material: cotton and polyester
Consolation Prize: Free $5!
Anyone who enters but doesn't win the Goddess OSHUN ✺ off the shoulder maxi will receive a code to unlock the discount.
Giveaway Status:
Winner Selected

03/16/2018

Life Enthusiast has received up to 279 karma for delivering the prize!
These were the winner's odds
Yet more giveaways for you (new and somewhat related)
---
All Comments (1)
Jinnifer Hulsey - 06/09/2018 10:52 a.m. (direct link)

Scam.Still haven't received.