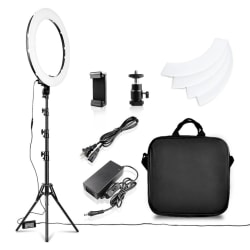 More details:
Winner did not receive prize
Giveaway: YOUR FUTURE IS BRIGHT GIVEAWAY
(Delivered)
18" Professional Ring light including accessories. This light is used by your well-known influencers across all social media platforms. It is light weight and easy to use but very high quality LED bulbs that create great lighting for content creation.
Prize: 18" Ring Light Professional `Package (United States)
Estimated Value: $158.98
This professional ring light is perfect for creators who are experienced and want high end branded lighting for their content. Also great for recreational purposes!  Brand Name: TRAVORColor Temperature: Bi-color 3200K-5600KPlug Standard: EU PlugFunction 1: 18 Inch LED ring lightColor Temperature: Dimmable 3200K/5500KLight Source: LED SMDLED Bulbs: 512 PCSMaterial: ABS and PlasticSize: Outer48.5cm Inner36.5cmTotal Power: 55WOutput Voltage: 15VDC 5.0ALumen: 5200LMPower Supply: 120V,50/60Hz;230V,50/60HzFunction 2: led light ring for makeupFunction 3: led light ring for
Consolation Prize: 15% OFF your next purchase at www.lightluxstore.com
Anyone who enters but doesn't win the 18" Ring Light Professional `Package (United States) will receive a code to unlock the discount.
These were the winner's odds
Yet more giveaways for you (new and somewhat related)