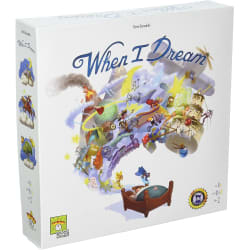 Giveaway: Your dream board game
(Delivered)
Take 30 minutes to put on your sleep mask and lay back as your friends talk you through your dreams. Coaxing the good, the naughty and the boogeymen out of your waking memories. With "When I dream" you will either have a creative, fun filled, board game --Or simply a way to trick your friends into providing you much needed therapy. Best of luck in any case!
Prize: When I Dream
Available on amazon.com
Estimated Value: $27.85
Night has fallen and your mind is floating in a magical world of dreams. But rest eludes you—the Dream Spirits want to have some fun tonight! Communicate with the Dream Spirits and try to interpret their messages in When I Dream, new from Repos! Become the dreamer, put on your sleep mask, and try to figure out your dream and which spirits are the Naughty ones. Become a Good Spirit and help the Dreamer by giving him clues about the dream before the Naughty Spirits mess it up. You can learn how to play in a few minutes and have a great laugh right from the start. Each role is both challenging and entertaining, giving the game more depth according to the player's imagination. When I Dream truly provides a wonderful experience with a unique dream every round.
Giveaway Status:
Winner Selected

10/19/2020

Wanderlink has received up to 401 karma for delivering the prize!
These were the winner's odds
Yet more giveaways for you (new and somewhat related)
---
All Comments (3)
Yeah, something is definitely wrong @A.L. thanks for the heads up.

A.L. - 10/17/2020 3:13 p.m. (direct link)

Also, e-mail notifications may be down...I haven't received notifications for the two giveaways before this one.

A.L. - 10/17/2020 3:11 p.m. (direct link)

Hey Prizemojo, something may be wrong with the site. This giveaway is supposed to start at 8 a.m. central on 10/17. It is now 3:10 p.m. on 10/17 and has yet to start.