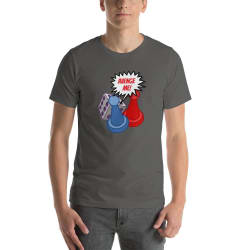 More details:
Giveaway: "You will be avenged!" and other ways to react to dice rolls going wrong
(Delivered)
All board-game-playing groups react differently when 1, 2 or several dice go tumbling into board game pieces. This can be particularly tragic, ironic or hilarious depending on the particular circumstances (or if you were losing anyway).
One thing most people don't do is wonder what it would be like to be one of those pieces. Well now you can and for no particular reason at all! Each of our "Dice Attack" shirts are customizable, allowing you to put in whatever you want. Have a friend --let's call him Frank, who always seems to roll into the pieces? How about a shirt with a piece shouting "Why Frank?!" or "Frank, NO!!!"? Customize your own for maximum fun.
The winner will get their choice of color and size, featuring either the "Avenge Me!" quote or their own customizable text. Karma spenders who don't win will get 30% off any fully-customizable Dice Attack t-shirt, long sleeve or sweatshirt. Best of luck!
Prize: Dice Attack Short-Sleeve Unisex T-Shirt, now in color! (Asphalt / L)
Estimated Value: $19.00
A dice roll going wide and knocking over game pieces is often both shocking and tragic. Turn a potential disaster into an opportunity for fun with with this creative and customizable design! This t-shirt is everything you've dreamed of and more. It feels soft and lightweight, with the right amount of stretch. It's comfortable and flattering for both men and women.
• 100% combed and ring-spun cotton (heather colors contain polyester) • Fabric weight: 4.2 oz (142 g/m2) • Shoulder-to-shoulder taping • Side-seamed
The Male model is wearing a size M. He's 6.2 feet (190 cm) tall, chest circumference 37.7" (96 cm), waist circumference 33.4" (85 cm). The female model is wearing a size M. She's 5.8 feet (178 cm) tall, chest circumference 34.6" (88 cm), waist circumference 27.16" (69 cm), hip circumference 37.7" (96cm).Size guide
XS S M L XL 2XL 3XL 4XL
Length (inches) 27 28 29 30 31 32 33 34
Width (inches) 16 ½ 18 20 22 24 26 28 30
Consolation Prize: 30% off ALL "Dice Attack" short sleeve shirts, long sleeve shirts and sweatshirts. Good till 5/31/2019.
Anyone who enters but doesn't win the Dice Attack Short-Sleeve Unisex T-Shirt, now in color! (Asphalt / L) will receive a code to unlock the discount.
Giveaway Status:
Winner Selected

04/24/2019

Game Nite Shirts has received up to 637 karma for delivering the prize!
These were the winner's odds
Yet more giveaways for you (new and somewhat related)