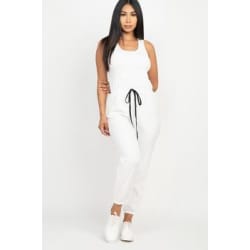 Giveaway: YOU Can run in the wind GIVEAWAY
(Delivered)
Elasticized Waist Jogger Jumpsuit S.M.L Medium weight stretch knit. Sleeveless. Elasticized waist with ribbon bow. Jogger pants with the elastic end at the ankle. Solid 95% Polyester 5% Spandex White
Prize: Elasticized Waist Jogger Jumpsuit (S)
Estimated Value: $22.50
Imported S.M.L  Medium weight stretch knit. Sleeveless. Elasticized waist with ribbon bow. Jogger pants with the elastic end at the ankle. Solid 95% Polyester 5% Spandex Khaki  CLA Elasticized Waist Jogger Jumpsuit
Measurements: SIZE S Length:" Waist:" Bust:"
Consolation Prize: 15% off
Anyone who enters but doesn't win the Elasticized Waist Jogger Jumpsuit (S) will receive a code to unlock the discount.
These were the winner's odds
Yet more giveaways for you (new and somewhat related)
---
All Comments (2)
We have small in beige/tan, click on storagebin3.com it should take you to the beige. the white we have s m l in stock. size chart's are available in the description's.

Could we get your size please. we will get it mailed to you. Congrats on your win.