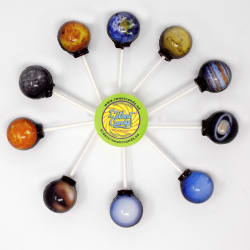 Giveaway: You can own the Solar System!
(Delivered)
EARTH, JUPITER, SATURN, THE SUN, MERCURY, PLUTO, URANUS, VENUS, MARS AND NEPTUNE!
Prize: Planet lollipops® by I Want Candy! (10 piece set)
Estimated Value: $30.00
If you are looking to purchase these at wholesale or volume quantities, please click here. As seen on CNET and on the Internet worldwide.  These are the ORIGINAL planet lollipops by Vintage Confections, Inc.  A truly galactic and out of this world treat! 
Includes:1 piece of each of the following flavors: blackberry, cherry, cotton candy, guava, marshmallow, pear, key lime, strawberry/kiwi, mango, tropical punch. You will receive: Sun, Mercury, Venus, Earth, Mars, Jupiter, Saturn, Uranus, Neptune and Pluto. The backs of these lollipops are black. 
A flavor card is included with each pack along with a planet ID card so you know which planet you are enjoying!  Planet lollipops ®, Solar System lollipops ®
ALL lollipops are individually wrapped. Each lollipop weighs approximately 26g and stands about 4.5" high.  Watch a video about this product:
Consolation Prize: 25% your order
Anyone who enters but doesn't win the Planet lollipops® by I Want Candy! (10 piece set) will receive a code to unlock the discount.
These were the winner's odds
Yet more giveaways for you (new and somewhat related)
---
All Comments (3)
earthdaisy - 10/02/2018 8:55 p.m. (direct link)

Thanks for the code! Very cool stuff!!!!

These are SO cool! I'm totally using the code to buy some.