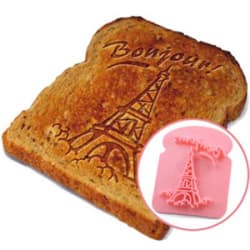 Giveaway: YEAH, TOAST!
(Delivered)
You can add some savoir faire to the most boring thing on your breakfast table. With the French Toast toast stamper, you can decorate an ordinary piece of toast with a delightful view of the Eiffel Tower. Just press the stamper into a piece of bread and pop it in the toaster. When it comes out, the Eiffel Tower and the greeting "Bonjour" will be printed on the toast. It's the best thing to happen to toast since sliced bread!
Prize: YEAH, TOAST! prize
Available on stupid.com
Estimated Value: $2.00
Giveaway Status:
Winner Selected

05/12/2016

Jaidonkaia has received up to 6 karma for delivering the prize!
These were the winner's odds
Yet more giveaways for you (new and somewhat related)
---
All Comments (3)
Such a simple idea, and so much fun.

Nice! I like this one, very clever. Will be fun to see it start.

Wookei - 02/06/2015 10 p.m. (direct link)

Aw haw haw haw. Merci