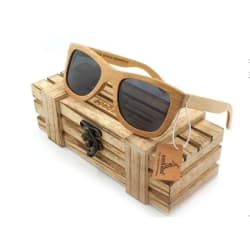 Giveaway: Win A Pair Of Beautiful Bamboo Sunglasses With Cool Wooden Box
(No Entrants)
Giveaway stopped: This giveaway does not meet the giveaway guidelines. All entries via Prizemojo have been cleared/refunded and no winner will be determined by Prizemojo.
Giveaway cancelled: Sorry, but we only support giveaways that require entrants to be at least 18yrs of age to enter. To relist the giveaway, please remove the term allowing entrants younger than 18yrs of age, remove this disclaimer and re-publish. For more information please see our giveaway guidelines
We are giving away a beautiful pair of Bamboo sunglasses that come with a really cool wooden case! You can check them out at here.
We have some really great handcrafted watch giveaways coming up soon! Be sure to check out Whata Watch from time to time for great deals and giveaways! We have amazing mechanical watches made out of walnut, zebrawood, Ebony & Rosewood, & more! Go to https://www.whatawatch.us to check them out!
Giveaway is valid for US residents only. Must be 13 or older to enter. If under 13, please get permission from parent or guardian. Winner will receive prize on or around January 15th, 2020.

Prize: Bamboo Sunglasses With Beautiful Wooden Box
Estimated Value: $32.99
Right now we are giving away a free pair of Bamboo Sunglasses that come with a beautiful wooden box. These are unique sunglasses because they are made from bamboo wood instead of plastic. These could be yours!
Consolation Prize: Unlock a discount for Whata Watch by entering!
Anyone who enters but doesn't win the Bamboo Sunglasses With Beautiful Wooden Box will receive a code to unlock the discount.
Giveaway Status: No entrants so no winner. Looks like everyone was a bit too generous in passing!
Yet more giveaways for you (new and somewhat related)