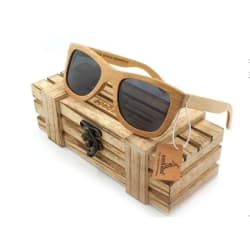 More details:
Winner did not receive prize
Giveaway: Win A Pair Of Beautiful Bamboo Sunglasses With Cool Wooden Box
(Delivered)
We are giving away a beautiful pair of Bamboo sunglasses that come with a really cool wooden case! You can check them out at here.
We have some really great handcrafted watch giveaways coming up soon! Be sure to check out Whata Watch from time to time for great deals and giveaways! We have amazing mechanical watches with transparent bodies made out of walnut, zebrawood, Ebony & Rosewood, & more! Go to https://www.whatawatch.us to check them out!
Giveaway is valid for US residents only. Must be 18 or older to enter.

Prize: Bamboo Sunglasses With Beautiful Wooden Box
Estimated Value: $32.99
Right now we are giving away a free pair of Bamboo Sunglasses that come with a beautiful wooden box. These are unique sunglasses because they are made from bamboo wood instead of plastic. These could be yours!
Consolation Prize: Unlock a discount for Whata Watch by entering!
Anyone who enters but doesn't win the Bamboo Sunglasses With Beautiful Wooden Box will receive a code to unlock the discount.
Giveaway Status:
Winner Selected

11/23/2019

Whata Watch has received up to 203 karma for delivering the prize!
These were the winner's odds
Yet more giveaways for you (new and somewhat related)