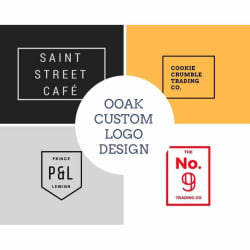 Giveaway: Win a One of a Kind Custom Logo Design Package!
(Claimed)
Build a brand experience with a fantastic, 100% custom logo from Hyphenomenon's custom design service. Enter today!
Prize: Custom OOAK Logo Design - Includes 5 Free Revisions
Estimated Value: $79.00
Prize is digital
Spice up your business or event with a 100% custom designed logo, made just for you! 
This Logo Design Package includes all of the following features:
An initial consultation via ] phone, text, or email (your choice) about what you envision your logo to look like, and to share any ideas you have. 3 preliminary Design Mockups 5 Free Revisions (additional revisions are always available at a small additional cost) 1 Final Logo in ALL of the following file formats:
PDF JPG PNG (transparent background) PSD AI EPS
This is a special deal for Hyphenomenon customers. I sell identical packages elsewhere for $99, and you will find similar listings all over the internet for several hundred dollars!
About Me: I have been a graphic design for five years, and a logo designer for even longer! I love helping brands and companies of all sizes build brand identities, and I specialize in small business brand and logo design. I have worked with nearly every industry, including (but not limited to!)Hair and beauty salon LogosBakery LogosRestaurant LogosWedding Logos and MonogramsPhotographic Logos and WatermarksAttorney LogosDentists'LogoClothing Brand LogosEtsy Seller Logosand many, many more!I would love to help you build your brand or help to customize your wedding or event as well! I have posted some examples of my work here, but if you would like to see even, reach out and I can send you my portfolio!Thanks for checking out my listing, and please feel free to reach out with any questions :)
Consolation Prize: 50% OFF ALL DESIGN SERVICES & PREMADE LOGOS
Anyone who enters but doesn't win the Custom OOAK Logo Design - Includes 5 Free Revisions will receive a code to unlock the discount.
Giveaway Status:
Winner Selected

08/21/2017

Hyphenomenon will receive up to 480 karma for delivering the prize!
These were the winner's odds
Yet more giveaways for you (new and somewhat related)
---
All Comments (1)
Wow, what a deal. I see that the 50% off website discount includes even more types of design services.