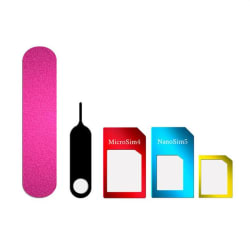 More details:
Winner did not receive prize
1 Comment
Giveaway: WIN A FREE PRIZE !! NO STRINGS ATTATCH !!
(Delivered)
Offer a GIVEAWAY for a lucky customer. Real Prizes and Real Winners !! Have fun Smart Shopping and enjoy your prize you winner you. Yours truly smartworldstore.online
Prize: Nano SIM Card to Micro Standard Adapter
Estimated Value: $17.99
Nano SIM 💳 Card to Micro Standard Adapter. Right tool 🔧 to change your SD cards and micro cards without 〽 scratching and damaging the phone📱 or other devices .  ON SALE BUY NOW ! Price: $13.99 FREE SHIPPING !! ALLOW 2-4 WEEKS FOR DELIVERY !!  Product Type: Sim Cards Accessories SuitModel Number: Sim Card to Micro SimBrand Name: RemaxColor: Mixed color
Consolation Prize: Like I said EVERYONE IN MY EYES IS A WINNER !! Your turn of winning didn't happen yet then use this 10% promo code discount. WINNER !!! ( DISCOUNT CAN NOT BE USE FOR FREE PLUS SHIPPING ITEM)
Anyone who enters but doesn't win the Nano SIM Card to Micro Standard Adapter will receive a code to unlock the discount.
Giveaway Status:
Winner Selected

09/21/2018

Smart World Store has received up to 15 karma for delivering the prize!
These were the winner's odds
Yet more giveaways for you (new and somewhat related)
---
All Comments (1)
Congratulation on being a winner of the Nano PapaFrank. I will keep you posted when the item is shipping out. Once again congratulations you winner PapaFrank. Henry / smartworldstore.online