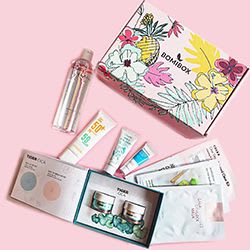 Giveaway: 💝 WIN A BOMIBOX KOREAN BEAUTY BOX 💝
(Delivered)
A Korean Beauty box filled with Korean skincare.

Prize: BOMIBOX KOREAN BEAUTY BOX
Estimated Value: $100.00
A pretty gift box filled with 8 Korean Skincare products.
Consolation Prize: $2 off your box
Anyone who enters but doesn't win the BOMIBOX KOREAN BEAUTY BOX will receive a code to unlock the discount.
These were the winner's odds
Yet more giveaways for you (new and somewhat related)
---
All Comments (1)
vs - 10/28/2019 3:10 p.m. (direct link)

Bomibox delivers! Thanks!