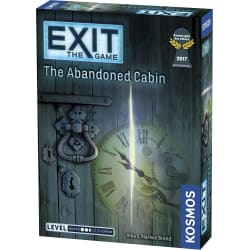 Giveaway: Why you should never stay in abandoned cabins
(Delivered)
Are you and your friends talking about taking a poorly planned trip to an unfamiliar locale? The kind of trip where you (of course) end up badly in need of shelter for the night. Yes? Great!
This board game will give you an idea of how well that will go. First, "luck" will net you a not-at-all-cozy looking abandoned cabin to sleep in and to your abundant surprise the night will pass by uneventfully. No Tim Curry in a teddy, ghosts, time loops, serial killers or even door-to-door salesmen. Almost a disappointment really. That is until the next morning when you wake up to find a combination lock on the inside of the cabin door, trapping you inside! No one knows how the lock got there. Maybe it was your friend Carl, a combination door lock collector with a tendency to sleep walk. You will never know, but now you must escape!
Win or purchase this fun board game and maybe, after playing, you will realize that you really shouldn't be on Prizemojo or playing board games. You should be doing a better job of PLANNING YOUR TRIP!!
Prize: Exit: The Abandoned Cabin Game
Available on amazon.com
Estimated Value: $13.69
You and your friends take shelter in an abandoned cabin, intending only to stay for one night. But in the morning the door is suddenly secured with a combination lock. The combination of the numbers is unknown to the players. The windows are barred. An enigmatic hub and a mysterious book seem to be a first clue. Can players use it to escape from the cabin?
With "EXIT - The Game", players with a bit of dedication, team spirit and creativity gradually discover more and more items, crack codes, solve puzzles and come closer to freedom bit by bit. At the same time, unusual paths must be taken. Thus, the material may be kinked, labeled or torn. Once the secret of the room has been revealed, the event game can not be played a second time. This makes the game night a special highlight.
Live escape feeling in the advanced level.
Giveaway Status:
Winner Selected

07/03/2018

Wanderlink has received up to 4118 karma for delivering the prize!
These were the winner's odds
Yet more giveaways for you (new and somewhat related)
---
All Comments (1)
Gopherfan - 06/05/2018 9:44 a.m. (direct link)

Great series of games