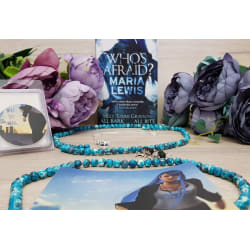 More details:
Winner did not receive prize
1 Comment
Giveaway: Who's Afriad? Book!
(Delivered)
We are starting our giveaways on the website now!
Please enter if you would like a copy of this amazing book by our very own Aussie author, Maria Lewis!
Prize: November Theme 2017 Book!
Available on goodreads.com
Estimated Value: $19.00
We are opening up our giveaways on our website and also on Instagram.
Our first giveaway on our website is the book from our November 2017 box called Who's Afraid? by Maria Lewis, an Australia author who is super cool!
Consolation Prize: If you do not win, won't stress! Enter the discount code for your next Book Crate purchase to get 10% off!
Anyone who enters but doesn't win the November Theme 2017 Book! will receive a code to unlock the discount.
Giveaway Status:
Winner Selected

01/24/2018

The Book Crate has received up to 126 karma for delivering the prize!
These were the winner's odds
Yet more giveaways for you (new and somewhat related)
---
All Comments (1)
"The Book Crate is a monthly subscription box for the bookish that sends you newly released young adult books and other goodies straight to your door." -- What an interesting concept!