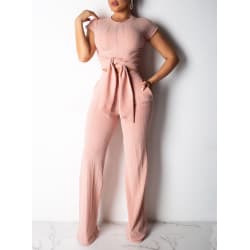 Giveaway: When Self Love Is All That Matters
(Delivered)
A Self Love Pant Set. Size S - 2XL is available.
Prize: Self Love Pant Set (Size S-2XL)
Estimated Value: $50.00
What's not to love about this women's soft cotton blend jumpsuit? It looks great on virtually all body types, and is one of the most comfortable jumpsuits you will ever own. It features a close-fitting bodice and has a high, round neckline. The cap sleeves are close-fitting also, but not too tight. A cutout appears at the waistline. The pants portion has slanted pockets. The legs provide a loose fit and have seams down the centers.
Consolation Prize: 20% Off Any Order
Anyone who enters but doesn't win the Self Love Pant Set (Size S-2XL) will receive a code to unlock the discount.
Giveaway Status:
Winner Selected

09/11/2019

1uniqueboutiques has received up to 1223 karma for delivering the prize!
These were the winner's odds
Yet more giveaways for you (new and somewhat related)