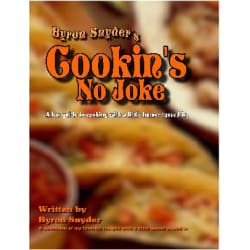 Giveaway: What's Cookin'
(Delivered)
You will receive our COOKIN'S NO JOKE! Cookbook along with our Cookin's No Joke Apron. This is one HOT & TASTE Prize.
Prize: Don't Laugh at the Chef!
Estimated Value: $40.00
"So what's cooking?" you ask. Just the WORLD' FUNNIEST COOKBOOK, that's what. Here's your chance to win a copy of a great cookbook, COOKIN'S NO JOKE! It is filled with my favorite recipes and hilarious kitchen/food jokes.
and just in case you start laughing so hard while you are making dinner which causes you to spill the soup all over yourself, we'll add our COOKIN'S NO JOKE Chef's apron as an additional prize!
Consolation Prize: Save 10% on any items in the our Cookin's no Joke section - https://mymagicalbookstore.com/collections/cookins-no-joke
Anyone who enters but doesn't win the Don't Laugh at the Chef! will receive a code to unlock the discount.
Giveaway Status:
Winner Selected

06/30/2017

My Magical Book Store has received up to 202 karma for delivering the prize!
These were the winner's odds
Yet more giveaways for you (new and somewhat related)