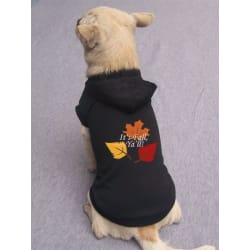 Giveaway: We're Moving! Let's Celebrate
(Claimed)
We are so proud to announce we have matured and moved from the ETSY store to fully functioning, customer friendly website we can call home. Let's celebrate!
Prize: It's Fall Ya'll Pet Hoodie (X-Small)
Available on sirius-lee-boutique.myshopify.com
Estimated Value: $17.00
Winter is approaching quick. This "It's Fall, Ya'll" hoodie not only keeps your fur baby warm but allows them to express their feelings about the season.
Consolation Prize: Free shipping on all orders through 2018!
Anyone who enters but doesn't win the It's Fall Ya'll Pet Hoodie (X-Small) will receive a code to unlock the discount.
Giveaway Status:
Winner Selected

10/26/2018

Sirius Lee Boutique will receive up to 209 karma for delivering the prize!
These were the winner's odds
Yet more giveaways for you (new and somewhat related)