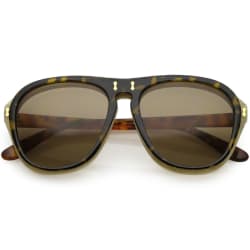 Prize: Men's Two Toned Flip-Up Aviator Sunglasses Neutral Colored Lens 55mm (Tortoise Creme / Brown)
Available on born2befly.myshopify.com
Estimated Value: $11.20
Make an entrance in these flip-up aviator sunglasses featuring a two toned design and metal accent details that offer a unique look. Designed with neutral colored lenses on top and clear lenses underneath, these flip-up aviator shades are sure to catch everyone's attention. Made with a plastic based frame, reinforced metal hinges, and 100% UV protected lenses.
Consolation Prize: $5 OFF
Anyone who enters but doesn't win the Men's Two Toned Flip-Up Aviator Sunglasses Neutral Colored Lens 55mm (Tortoise Creme / Brown) will receive a code to unlock the discount.
Giveaway Status:
Winner Selected

03/18/2019

Born2BeFly has received up to 203 karma for delivering the prize!
These were the winner's odds
Yet more giveaways for you (new and somewhat related)