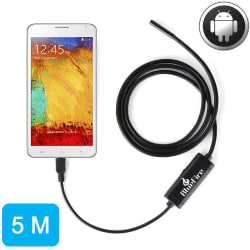 Giveaway: Waterproof Phone Endoscope
(Delivered)
Are you interested in the contents of your nasal cavity? Or the pipes beneath your bathroom sink? Or other places that might not be appropriate to mention here (and probably shouldn't be explored without a medical professional present?) If so, throw out that pen-light and straw and instead upgrade to this nifty waterproof phone endoscope for Android. Just load the app, attach to your smartphone, and start exploring your ... plumbing!

Prize: Waterproof Phone Endoscope
Available on amazon.com
Estimated Value: $18.99
The Bluefire 7mm waterproof endoscope is a thin tube with a light that attaches to your phone. You can thread it into pipes and other tight places to get a look at what's going in there, and the images will be transmitted back to your Android smartphone.
These were the winner's odds
Yet more giveaways for you (new and somewhat related)