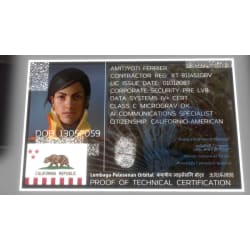 Giveaway: Unravel the mystery of Tacoma
(Delivered)
Introducing Tacoma. Is it a game, an interactive movie or a bit of both? One thing is for sure, it will be far more gripping then the game's "Walking Simulator" genre implies. We highly recommend playing this some place comfy, with a steam controller, and a friend or loved one to bounce theories off of as you explore the ship.
The winner will need a (free) steam account for us to gift the prize to them.
Prize: Tacoma (Computer Game)
Available on store.steampowered.com
Estimated Value: $20.00
Prize is digital
Tacoma is a sci-fi narrative adventure from the creators of Gone Home. Set aboard a high-tech space station in the year 2088, explore every detail of how the station's crew lived and worked, finding the clues that add up to a gripping story of trust, fear, and resolve in the face of disaster.
Works on Linux, Windows and Mac.
Giveaway Status:
Winner Selected

11/27/2017

Wanderlink has received up to 472 karma for delivering the prize!
These were the winner's odds
Yet more giveaways for you (new and somewhat related)