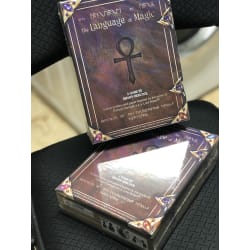 Giveaway: Twenty-six Words to Cast them All
(Delivered)
Enter to win Kickstarter copy of The Language of Magic, signed by the designer.
The Language of Magic is a game which can be played in two ways: 2-player duel – players attempt to build an arsenal of powerful Words of Magic to overcome their opponent, or 2-4 player cooperative or solitary play – players work together to battle the Lich and its minions, defeating it before it can cast its final spell. As a solo or co-op player, you take on the role of the Avatar, chosen heroes of spirituality......who are to do battle with the Master of Hythloth, the vile Nefarious Lich Lord and his minions of the abyss.
All participants who do not win will be given a coupon code for 15% off the game from our store.
Prize: The Language of Magic
Estimated Value: $35.00
Buy the game of solo fighting, co-op gaming that uses the ancient language of runes to beat the villains you find within. Choose your words carefully! Defeat the boss. Or your friends. Designed for ages 10+ and 1 - 4 players. Please note, the dice bag and specially themed dice are not the standard options. They are not included with this item.
Consolation Prize: 15% off of The Language of Magic from ShopGeeksGaming.
Anyone who enters but doesn't win The Language of Magic will receive a code to unlock the discount.
These were the winner's odds
Yet more giveaways for you (new and somewhat related)
---
All Comments (3)
Thank you for participating in the giveaway! We will get the price out within the next few days.

Eaglebot - 03/11/2019 6:40 p.m. (direct link)

I spent 3238 karma. Almost none of the giveaways are things I actually want, so I ended up with a ton of karma and not much else to spend it on ...

Dang how much karma did the winner use. Nice snipe! (Or rather, you had a 50% chance so I guess it's not a snipe)