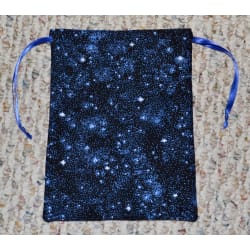 Giveaway: Transport Your Dice in Style!
(Delivered)
Don't settle for just any dice bag! These dice bags are attractive enough to be a good home for your best dice. Or any other small objects you can think of.
Fully lined for durability. Double drawstrings, so simply pulling on both sides closes the bag, keeping your small treasures safe.

Prize: Star Covered Drawstring Dice Bag, Gift Pouch, Fully Lined
Available on etsy.com
Estimated Value: $10.00
Black and blue Starry bag.
8 1/2 x 6 1/2 inch drawstring bag. 100% cotton, with polyester ribbon ties.
All my bags are fully lined with a contrast fabric!
Perfect for dice, other small items or as a gift bag.
These were the winner's odds
Yet more giveaways for you (new and somewhat related)
---
All Comments (1)
This is such a beautiful bag -- lots of other great stuff on the Etsy store, too!