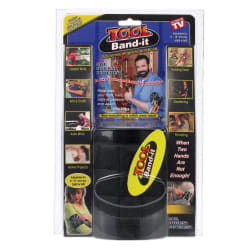 Giveaway: Tool Band-it
(Delivered)
When two hands are not enough don't have more children, instead, use this Tool Band-it! It is a magnetic thing with Velcro that will hold metal stuff like tools, nails, and did I mention tools? This product was endorsed by the late great Billy Mays, so if nothing else, you will have an increasingly rare package with a picture of him giving you a thumbs up. GOOOOOOD LUCK!
Prize: Tool Band-it prize
Available on amazon.com
Estimated Value: $13.00
Giveaway Status:
Winner Selected

07/22/2016

Wanderlink has received up to 216 karma for delivering the prize!
These were the winner's odds
Yet more giveaways for you (new and somewhat related)
---
All Comments (2)