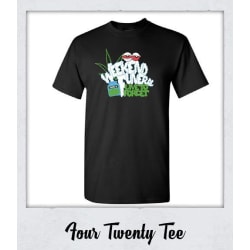 Giveaway: To show we do have a heart, here's a free tee!
(Delivered)
To celebrate our store opening, we're giving away a free premium tee. Help get the word out, WeekendFuneral has launched! Good luck everyone!
About WeekendFuneral WeekendFuneral began in my head since I was in high school, I just never had the balls to do something about it. It took living life to realize where my style and message fit in. WeekendFuneral is a collection of overcoming being humiliated, broken, lied to and coming out stronger than before; put into the pieces. From the brightest reds and blues to the darkest regions of death and hell in our brain, there are many facets to WeekendFuneral. If we're all born alone and die alone, then we're not actually alone and have more in common, more reason to keep on fighting and dying. It never ends. United we stand. United we fall. United we rise. We resurrect ourselves.
WeekendFuneral
week·end·fu·ner·al | \ ˈwēk-ˌend ˈfyün-rəl noun
an affective aspect of consciousness through clothing
Prize: "Four Twenty"
Available on weekendfuneral.com
Estimated Value: $24.95
Cop this nifty lil four twenty inspired T I designed! We all love numbing the pain - feel nothing with me.
6 oz/yd2 | 10 oz/ly | 203 g/m2 100% cotton jersey Set-in rib collar with shoulder-to-shoulder taping Double-needle sleeve and bottom hem Preshrunk to minimize shrinkage
Consolation Prize: 20% off to first 10 entrants who didn't win prize.
Anyone who enters but doesn't win the "Four Twenty" will receive a code to unlock the discount.
Giveaway Status:
Winner Selected

05/02/2019

WeekendFuneral has received up to 174 karma for delivering the prize!
These were the winner's odds
Yet more giveaways for you (new and somewhat related)
---
All Comments (3)
Melissa L - 05/07/2019 2:44 p.m. (direct link)

Mama's going shoppin!

That has to be the most darkly-hopeful "About Us" I have ever read.