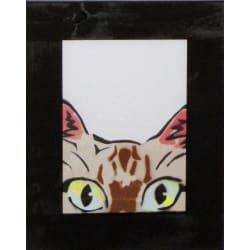 Giveaway: Tip: Original Art is Always Cooler than Mass Manufactured Art!
(Delivered)
Featured in this giveaway are two lightweight, framed original artworks! One orange cat peeking out onto the frame is painted on plexiglass, and the other cat peeking out of the black frame is done with stencils and spray paint on plexiglass! Being done on plexiglass means that they are more lightweight and stable than using traditional glass and should travel through the mail with more ease! It also means that whatever color they are hung over will show through, making sure they'll fit in seamlessly with your current color schemes!
These pieces were created by Krystl Louwagie, who did the artwork for Doc Karmaseed , his Karmic Reactor design notes and the rest of the Karmic Reactor Story --as well as writing over 300 egg descriptions! Incidentally, Krystl wanted to donate these original signed works of art for all those who remember Coppergoose so fondly, but occasionally she's a little disorganized and isn't so sure of where those pieces are currently living. Rest assured though, if you commission her to do some artwork, she won't lose it before it gets into your hands! Visit her deviantart page to take a look at the multitude of works there and what she can do!
Giveaway Status:
Winner Selected

05/17/2016

KrystlOCity has received up to 254 karma for delivering the prize!
These were the winner's odds
Yet more giveaways for you (new and somewhat related)
---
All Comments (7)
Softmoron - 05/17/2016 1:24 a.m. (direct link)

@Coppergoose that's no good, maybe you should try holding them for a change yeah? They say a bird in hand in worth two in the bush after all

Krystl, I bet if you can find those originals, you'd be swimming in Karma.

My pleasure, Coppergoose! :)

@Softmoron The magpies keep getting into my juniper bushes! *HONK*

Softmoron - 05/16/2016 4:54 a.m. (direct link)

Coppergoose! It's good to see you. How's the retired life?

Good luck and thanks for all the art!