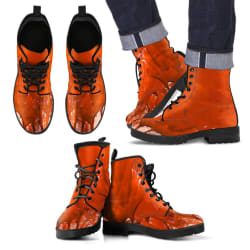 Giveaway: These (mens) boots were made for winning!
(Delivered)
Having trouble spilling paint and/or blood on your boots in just the right way? We feel your, possibly literal, pain and have just the solution. A brand new pair of "Men's Bloody Mess Leather Boots"! (sorry ladies) If you win, just let us know the style and size you would like and we will drop ship a pair from our past sponsor, moondazzle. No guarantees but If the shipping spirits are with us we hope to get it to the winner before Halloween!

Prize: Men's Bloody Mess Leather Boots
Estimated Value: $69.99
Perfect for your next Zombie Walk!
These were the winner's odds
Yet more giveaways for you (new and somewhat related)