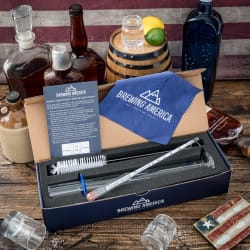 More details:
Winner did not receive prize
Giveaway: The Great Brewing America Giveaway!
(Delivered)
Enter to WIN one Hydrometer Alcohol Meter Test Kit: Distilled Alcohol American-Made 0-200 Proof Pro Series Traceable Alcoholmeter Tester Set with Glass Jar from Brewing America!
Giveaway!
Prize: Hydrometer Alcohol Meter Test Kit: Distilled Alcohol American-Made 0-200 Proof Pro Series Traceable
Available on brewingamerica.myshopify.com
Estimated Value: $42.99
Product features
HIGH QUALITY PROOF & TRALLE TEST KIT: American made, NIST Traceable 0-200 Proof & Tralles Hydrometer for alcohol (Made in the USA) meeting or exceeding the standards set by the National Institute of Standards and Technology. 0-200 PROOF scale for alcohol proofer testing spirits, high alcohol liquor, moonshine, corn whiskey, barrel aging dissipation, infusion batch and tincture recipes or other high alcohol content home distilling beverages for alcohol content measuring. HYDROMETER FOR MOONSHINE TESTING: Distillers, buy the best homebrew hydrometer alcohol proofer - Float your new Brewing America proofing hydrometer for moonshine for your alcohol testing in your still parrot or draw your sample to gauge your grain liquor proof measurement to measure alcohol content in your new Brewing America borosilicate glass test cylinder, either way, you have what you need! EVERYTHING YOU NEED: What's included: One Made In America Brewing America Alcoholmeter (also called a Proof and Tralle Hydrometer for homebrew or spiritometer), One solid borosilicate Glass Test Tube Jar Cylinder, One sturdy Bottle Brush made of STAINLESS STEEL designed specifically for our very narrow test jar, One plastic storage tube, One foam filled, sturdy outer box. We also include one microfiber cloth and our 2- page direction sheet with a conversion chart. BOROSILICATE GLASS TEST TUBE: Highest quality equipment means this equipment has the tolerance for the temperature variances of your mash (or wort) brew ABV percentage tests. It comes with a removable bumper guard and a sturdy, perfect-fit, hydrometer test jar cleaning BRUSH with stainless steel handle, and microfiber cloth, making clean-up a breeze. And you will keep all your test stuff safe in your sturdy storage box. BEST GIFT - MANY USERS: No matter if you are distilling or mixing liquors or wines, barrel aging or infusing, there are many applications of this versatile booze testing combo kit. BE CAREFUL: Home brew and home distiller hydrometers are still breakable, even when you have the highest quality raw glass materials and skilled American labor, moonshine supplies and measuring devices are to be loved, so take care of your high quality equipment and it will help you brew your best batches yet!
Alcohol Hydrometer Distilling Test Kit: Pro Series 0-200 Proof and Tralle Tester & Glass Jar Very versatile and accurate high alcohol content testing kit. Includes a American-made, NIST Traceable Proof and Tralle Hydrometer--which means accurate testing! This proofing kit all includes a perfect sized, narrow, borosilicate glass test jar and perfect-fit, stainless steel cleaning brush. All this comes in a reusable storage box with a microfiber cleaning cloth and 2-page instruction sheet. The Brewing America kits come with a narrow, borosilicate glass test tube, so you wastes less brew liquid. They are crystal clean to see through...no graduated markings blocking your view. Easy clean-up with the perfect-fit cylinder brush and we include a 2-page instruction sheet with conversion chart as well as a microfiber cleaning cloth too. Brewing America cares so much about the distilling industry, we also include links to the 100-year-old national temperature conversion chart, which we corrected for typos and offer in electronic form.
Quality Products Have peace of mind knowing that your order will arrive original factory sealed packaging. That means that you'll have the full force of the manufacturer's warranty to protect your purchase. Fast and Free Shipping You're already purchasing the item. Why pay additional for shipping, especially slow shipping? We get your order shipped out and delivered to your doorstep as quickly as possible. Commitment We are committed to making sure that you leave this transaction satisfied. That means having access to real people that get your questions and concerns answered quickly. Give us a shot and we will make sure that you will look to us again!
Consolation Prize: 25% Off Your Next Order - Limit to One Use Per Contestant
Anyone who enters but doesn't win the Hydrometer Alcohol Meter Test Kit: Distilled Alcohol American-Made 0-200 Proof Pro Series Traceable will receive a code to unlock the discount.
Giveaway Status:
Winner Selected

08/02/2019

Brewing America has received up to 2702 karma for delivering the prize!
These were the winner's odds
Yet more giveaways for you (new and somewhat related)