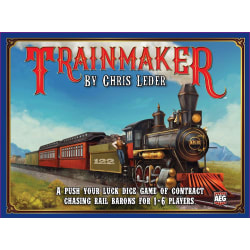 Giveaway: The fun, but certainly not safest, way to build a train
(Delivered)
Trainmaker is an interesting spin on the ruleset of the classic dice-game, Farkle. Giving you an intense, high stakes, "let it ride!" kind of gambling feel as you build your train in competition with the other players. All in around 10minutes per train. Much as we expect real trains were built for the 1880s Wild West.
Lest we offend our 140+ year old railroad tycoon readers, it was a different time back then and with different sensibilities, we assure you! Well you have a train to catch, err make, best of luck!

Prize: Trainmaker
Available on amazon.com
Estimated Value: $17.91
As a 19th Century rail tycoon, you strive to build the greatest empire of rails and rolling stock on the continent, and every train carries you closer to success. The railroad business is cutthroat, so beware of others attempting to derail your efforts! It's time to get rolling – build your trains, connect American cities, and prove that you are the greatest Trainmaker!
Trainmaker is a "push your luck" dice game where you roll to build trains in order to complete contracts, delivering people, raw materials, and goods for sale across the American frontier.
1-6 players
Ages 14+
10 minute play time
Giveaway Status:
Winner Selected

02/22/2019

Wanderlink has received up to 2445 karma for delivering the prize!
These were the winner's odds
Yet more giveaways for you (new and somewhat related)