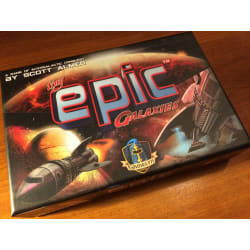 Giveaway: The fastest way to space
(Delivered)
Do you want to explore the far reaches of space, discover and colonize new planets, and be the leader of an intergalactic empire? Well, lets see, what will you need... A rocket? On paper, yes. Rivals for you to defeat? Check. Resources and rocket fuel? Check, wait... rocket fuel? Fuel is the last thing you need to power ships through space. Everyone knows the only way to fly is good dice rolls. So stay focused and get those 21 points!
Prize: Tiny Epic Galaxies
Available on amazon.com
Estimated Value: $20.99
Tiny Epic Galaxies is a fun strategy space exploration game perfect for 1-5 players. It's easy to learn and is popular with adults, kids, teens, families, and everyone.
The Tiny Epic Series is one of the best small box board game collections that captures an epic game experience in under an hour!
Gamelyn Games takes pride in offering the highest quality components with beautiful artwork and gorgeous graphic design.
Tiny Epic Galaxies is a dice-driven, empire-building game involving planet acquisition, resource management and the innovative "follow" mechanic
Race other players in a race to 21 victory points. Keep track of your precious resource culture as it will allow you to follow other players and keep on top of the action.
Giveaway Status:
Winner Selected

03/30/2020

Wanderlink has received up to 6879 karma for delivering the prize!
These were the winner's odds
Yet more giveaways for you (new and somewhat related)