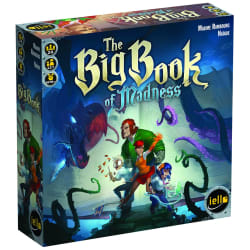 Giveaway: The Big Book of Madness (not a psychology text book)
(Delivered)
You may be surprised to learn that "The Big Book of Madness" may not be the best resource to use for your masters thesis in psychology. No, this is a board game of skill building and survival where you are tasked with defending yourself from powerful forces using the hard earned knowledge you gained through years of study... OK, so that does sound a lot like defending your masters thesis but, trust us, this is not the best tool for that! That is unless you just want to play a fun cooperative game with friends. If so, this game may be just what your looking for.
Prize: The Big Book of Madness Board Game
Available on amazon.com
Estimated Value: $28.49
Your first year at the Elemental College has been disappointing. They taught you to light a flickering flame at the tip of your finger, but you've spent much more time reading books than learning powerful spells as future great wizards like you should. So when you heard about the Big Book of Madness hidden in the great school library, you couldn't help but to sneak in and peek in this intriguing tome in spite of the warnings. When you slowly lift the cover of the terrible book, dozens of dreadful creatures rush out, threatening to destroy the world itself! This was your mistake, and only you can fix it now! Learn from the library to fight back against the monsters, and try not to sink into insanity.
Giveaway Status:
Winner Selected

10/03/2019

Wanderlink has received up to 16614 karma for delivering the prize!
These were the winner's odds
Yet more giveaways for you (new and somewhat related)
---
All Comments (1)
I know I'm not going to win this, but I'm going to try anyways dang-nabbit!