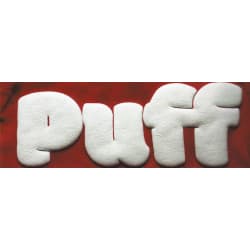 More details:
Giveaway: Thanksgiving Giveaway
(Delivered)
Enter for your chance to win 3 foot of white PUFF vinyl.
Prize: Fashion Flex PUFF (19.5 in x 3 foot / White)
Estimated Value: $21.25
Puffs up when pressed - no need for re-pressing to get the puff effect
Easy to weed with simple application instructions We offer the most Puff colors in the industry Pressure-sensitive carrier enables easy weeding and repositioning
Acceptable Fabrics: Cotton, uncoated Polyester, Fabric Blends, Polyester/Acrylic and Similar Fabrics Special Precautions: Cannot be layered. Remove carrier immediately after pressing. If the carrier or transfer sheet is left on, it can create inconsistencies in the puffed material.   Application Instructions:
45 Blade Cut this material in mirror image 320 F, medium pressure, 15 seconds Peel hot - remove carrier and/or transfer sheet immediately
Care Instructions: Wash inside-out, cold water, gentle cycle. Tumble-dry low.  
Giveaway Status:
Winner Selected

11/26/2020

CWB Vinyl Materials has received up to 129 karma for delivering the prize!
These were the winner's odds
Not yet Available (Stay tuned)
Yet more giveaways for you (new and somewhat related)