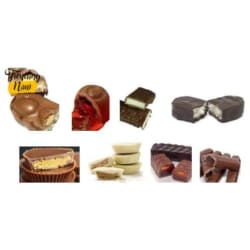 Giveaway: Tasty candy flavors but without all that sugar
(Shipped)
Hey... hey, HEY, HEY!. You spaced out there for a bit. Perhaps you were dreaming of your favorite candy bar? You know, one of those with 12, 30, or maybe even 40 grams of sugar? Or perhaps it was the fancy coffee drink with 4 or 5 modifiers, all adding up to 80 grams of sugar (no joke)? Hey, no judgement from us, but we though you may be interested in one of these flavor concentrates from, long time sponsor, Kendell's Korner. They just added a new deluxe combo of candy flavors. A perfect way to sample what they have to offer or give a sugar free gift to a special candy addict in your life. OK, you can continue to space out at th... oh ok I already lost you, well enjoy!
Prize: Deluxe Candy Lover's Flavor Combo
Estimated Value: $30.00
Get the same candy taste with less calories and fewer carbs. Add to Milk, Protein Shakes or Coffee. Add favorite zero calorie sweetener
Consolation Prize: One time use coupon for 20% off any flavors (including the combo above!)
Anyone who enters but doesn't win the Deluxe Candy Lover's Flavor Combo will receive a code to unlock the discount.
These were the winner's odds
Yet more giveaways for you (new and somewhat related)