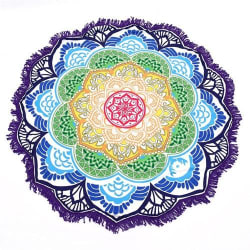 More details:
Winner did not receive prize
Giveaway: Take your shot at a chance to win this awesome Yoga Tapestry!
(Delivered)
Were giving away our really cool Yoga Tapestry to one lucky winner! Today could be your lucky day!
Prize: New Round Beach Towel Tapestry Tassel Decor With Small Balls Flowers Pattern 147*147CM Circular
Estimated Value: $18.04
Brand Name: OUTADThickness: 4 mm (Senior Type)Model Number: LL30702Material: CottonLength: 147cm*147cm
Giveaway Status:
Winner Selected

02/12/2019

HotYogaGear.com has received up to 1369 karma for delivering the prize!
These were the winner's odds
Yet more giveaways for you (new and somewhat related)