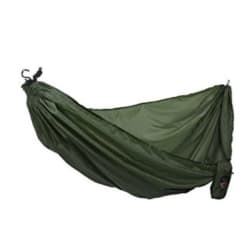 Giveaway: Take it Easy in a New Hammock
(Delivered)
I've been taking it easy over and AND News, with no new videos in over a month. I figured, since I'm taking it easy, why not give you all a chance to take it easy as well.
When I go camping, I oftentimes rely solely on my trusty (if spendy) Hennessy hammock for shelter. I thought this ultralight might be just the thing to help one lucky winner find out if a hammock is a good solution for their camping and/or beach-side leisure needs.
I haven't used a Grand Trunk hammock like this one before, but the online ratings look pretty solid. I hope it serves well to a good home.
Prize: Grand Trunk Ultralight Hammock (Green)
Available on amazon.com
Estimated Value: $20.00
When it's time to travel light and fast, turn to the Ultra-Light Hammock from Travel Hammock. The UL Hammock is made of 100-percent polyester taffeta, which is not only comfortable enough for quick naps and evening snoozes, but also packs down to a mere 12 ounces. As a result, it's a breeze to bring this hammock on long hikes without weighing down your pack. The hammock is also compatible with a sleeping pad, creating the ultimate off-the-ground sleeping solution. Other details include attached S-hooks for easy hanging, a 200-pound weight capacity, and a mildew-resistant, quick-dry design. Equipped with an attached stuff sack for easy transport, the UL Hammock measures 9.5 by 4.5 feet and carries a 2-year warranty.
Key Features:
Weighs 12 ounces Measures 9.5 feet long by 4.5 feet wide Supports up to 200 pounds Made with polyester taffeta Includes stainless steel S-hooks for easy hanging Attached stuff sack for easy storage Mildew resistant Dries quickly Easy to hang Manufacturer's Warranty Two-year warranty
Giveaway Status:
Winner Selected

05/27/2017

Only Ambiance Youtube has received up to 259 karma for delivering the prize!
These were the winner's odds
Yet more giveaways for you (new and somewhat related)