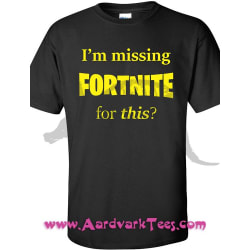 More details:
Giveaway: TAG! You're It! Fortnite T-Shirt Giveaway
(Forfeit)
All the kids are talking about this Fortnite business. We don't get it ourselves, but we're just lowly aardvarks, snuffling around in the dirt and making awesome t-shirts.
LIKE THIS ONE!
The winner of this giveaway will receive 1 (one) "I'm Missing FORTNITE For This?" t-shirt in the size of their choice - kids' sizes also available!
Prize: I'm Missing Fortnite for THIS?
Estimated Value: $22.00
For a silly, humourous battle royale game, you can't beat Fortnite.  It's a true sensation, and the Aardvarks celebrate this acclaimed MMORPG (Massive Multiplayer Online Role Playing Game).
Most online gaming tends to take over at least some areas of one's life.Think of it...Leveling...Looting...Surviving...Isn't there something you'd rather be doing right now? (Wait until you're finished looking around our site, please!)
Our design is printed in addictive Athletic Gold on the softest cotton tee imaginable (4X & 5X only available in Gildan 2000 style). It's perfect for grocery shopping, paying bills, weddings, or any other mundane activity you can think of.
Consolation Prize: 15% Off Your Next Order!
Anyone who enters but doesn't win the I'm Missing Fortnite for THIS? will receive a code to unlock the discount.
Giveaway Status:
Prize Forfeit

: The winner did not claim the prize (by providing their delivery information) within 2 weeks.
Yet more giveaways for you (new and somewhat related)