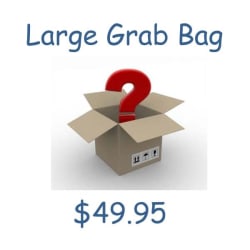 Giveaway: Surprise surprise Back Porch mystery prize
(Delivered)
The best gift experiences provide a sense of wonder ahead of the opening as well as a sense of amazement after the contents are revealed. In case you don't quite get your fix this holiday season, here is your chance to re-live that moment! With a fun grab bag of up to $150 in merchandise from the folks at the Back Porch Talkin' Country Exchange!
Since the prize will be drop shipped its exact contents will be a mystery to us as well. So if you win, we would all love to see what you end up with by way of a prize feedback quote or giveaway comment!

Prize: Grab Bag Fun! Large
Estimated Value: $49.95
Large Grab Bag Surprise: $49.95 Brand-new, unopened merchandise. Retail value: Up to $150.00! Not dime-store novelty items. Your Grab Bag may contain:
Home Decor
Outdoor decor
Gifts for her or him
Collectibles
Furniture
Wall decor
Bed & Bath
Kitchen Gadgets
Lighting
Home Office
Pets
These were the winner's odds
Yet more giveaways for you (new and somewhat related)
---
All Comments (1)
harlotte Hitner - 01/07/2018 8:58 a.m. (direct link)

Love to win.