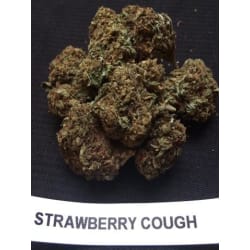 Giveaway: StrawBerry Summer
(Delivered)
Promoting the positive use of hemp flower and the amazing benefits that CBD can bring. Hemp can help combat anxiety and offers a wide variety of benefits. Flower can be smoked, vaped or used in oil/edibles. The delivery of effects are very quick and all of our buds are high in CBD and under the legal THC limit. Our products are 100% legal in all 50 states and federally.
Prize: Strawberry Cough (1/8 oz)
Estimated Value: $20.00
Genetics: Strawberry Fields/Haze  ( Sativa Dominant ) 
Scent: Fruity
Taste: Strawberry/Sweet/Berry
CBD Potency: 18.06 These gorgeous CBD flowers are covered in cloudy amber trichomes that lend the leaves a slightly yellowish appearance. Red -- rather than orange -- pistils are threaded through the sticky leaves. The mild scent of strawberries wafts up from the buds, mixed with a little bit of peppery spice. When buds are combusted, they give off a herbal cloud, reminiscent of parent strain Haze. The initial taste is of ripe strawberries, without any hint of skunkiness or musk. On the exhale, the strawberry flavor has some more sweetness. This saccharine berry scent lingers for a while after users have toked. All our premium CBD hemp flower products go thru rigorous 3rd party testing with a 7 point inspection process including moisture content, terpene analysis, potency analysis, foreign matter inspection, mycotoxin screening, heavy metal screening, and pesticide residue analysis. Strawberry Cough tests out with a 18.06 CBD% and under . 3%THC delta 9 in accordance with Farm Bill sec. 7606 of The Agricultural Act of 2014.
Giveaway Status:
Winner Selected

08/14/2019

BackWoodz CBD has received up to 2893 karma for delivering the prize!
These were the winner's odds
Yet more giveaways for you (new and somewhat related)