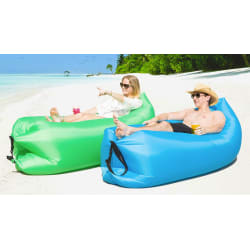 More details:
Winner did not receive prize
5 Comments
Giveaway: STOP LAYING ON THE GROUND!
(Delivered)
Instantly Inflate Your way to comfort! Special prizes and discount codes for non-winners.

Prize: Instant Inflatable Air Hammock
Estimated Value: $99.97
Inflates in seconds and deflates just as fast!
Sofa / Hammock in under a minute. Compresses small enough to carry around and only weighs one pound!
Great for Camping, Beach Trips, and the Park!
Consolation Prize: 10% OFF First Order!
Anyone who enters but doesn't win the Instant Inflatable Air Hammock will receive a code to unlock the discount.
Giveaway Status:
Winner Selected

01/17/2018

Eaglesong Supply has received up to 1606 karma for delivering the prize!
These were the winner's odds
Yet more giveaways for you (new and somewhat related)