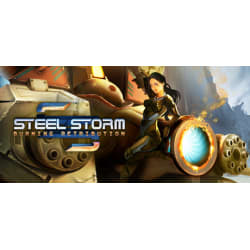 Giveaway: Steel Storm: Burning Retribution & DLC - Steam Code
(Delivered)
Steel Storm: Burning Retribution is a top down action shooter with old school spirit. It marks the return of top-down shooters with new twists. The game has score oriented competitive gameplay, and is designed for people who like fast paced action, hordes of smart enemies, destructible worlds and ground shaking explosions. The events take place in an alternative universe where you control an advanced hovertank, packed with the most advanced and sophisticated weapons. Your task is simple, but nevertheless not trivial. In the fight against extraterrestrial invaders, you must prevail!
The winner of the giveaway will receive a code which can be redeemed via Steam. A Steam account is necessary to collect this prize.
This includes the original game as well as DLC.

Prize: Steel Storm: Burning Retribution & DLC - Steam Code prize
Available on store.steampowered.com
Estimated Value: $17.97
These were the winner's odds
Yet more giveaways for you (new and somewhat related)