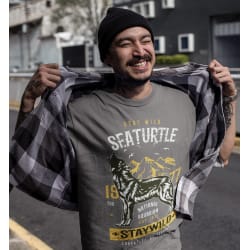 Giveaway: Stay Wild Sea Turtle Stay Wild
(Delivered)
We at FanClubShirts.com make stupid funny T-shirts that will leave you confused. It's fun to watch people look at your shirt with a confused look on their face. I assure you nothing about our designs are a mistake :::wink wink:::
This giveaway is for one Unisex Wild Sea Turtle T-shirt in your choice of size.
Prize: Wild Sea Turtle T-shirt
Estimated Value: $18.97
Do you love Sea Turtles as much as we do? Since 1877 the National Aquarium has been education people on the life of the majestic Sea Turtle. Now it's time for you to do your part in spread the message of just how awesome this beloved creature of the woods is. Wrap yourself in this soft ring spun cotton shirt while you howl in the moonlight of your awesomeness.
Consolation Prize: 10% off entire store
Anyone who enters but doesn't win the Wild Sea Turtle T-shirt will receive a code to unlock the discount.
Giveaway Status:
Winner Selected

01/11/2019

Fan Club Shirts has received up to 206 karma for delivering the prize!
These were the winner's odds
Yet more giveaways for you (new and somewhat related)
---
All Comments (7)
JuxtaPosed - 01/17/2019 6:47 p.m. (direct link)

Fantastic shirt, high quality with great-funny art. And delivery was quick, I didn't have to wait long at all to get my prize. Two thumbs up!

haha, thanks so much, yeah it's totally fun watching it go over people's heads lol

That confused person was me, staring at the MacGyver shirt. That is until you "get it", then it's hilarious!