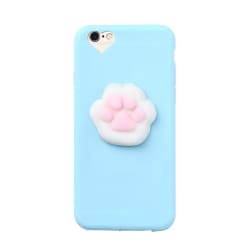 Giveaway: Squishy Cat Paw Blue Phone Case Giveaway
(Forfeit)
Poke it, squish it, rub it! Perfect as a gift for a friend. o Cute Soft Cat's Paw, cute look
o Soft silicone material, wear resistant and shock-proof
o Wrapped back and edges, all-round protection
o Raised lip for camera lens protection
o Slim and lightweight, no bulky feel

Prize: Blue Cat Paw - Squishy Phone Case (blue paw / for iPhone 6 6S)
Estimated Value: $19.99
Poke it, squish it, rub it! Perfect as a gift for a friend. o    Cute Soft Cat's Paw, cute look 
o    Soft silicone material, wear resistant and shock-proof 
o    Wrapped back and edges, all-round protection 
o    Raised lip for camera lens protection 
o    Slim and lightweight, no bulky feel
Consolation Prize: 10$ Off Sitewide
Anyone who enters but doesn't win the Blue Cat Paw - Squishy Phone Case (blue paw / for iPhone 6 6S) will receive a code to unlock the discount.
Giveaway Status:
Prize Forfeit

: The winner did not claim the prize (by providing their delivery information) within 2 weeks.
Yet more giveaways for you (new and somewhat related)
---
All Comments (1)
A stress relieving phone case like this might help reduce my tendency to rage-quit when playing Clash Royale.