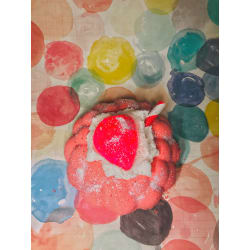 Giveaway: Spring Giveaway
(Delivered)
April showers bring May flowers... But March is full of free stuff! The winner of this giveaway will recieve one FREE "All the Boys to the Yard" milkshake: scented with Strawberry Milkshake. May the luckiest bather win!

Prize: All The Boys To The Yard Bubble Cake Bath Bomb
Estimated Value: $10.00
Scented with Sweet Strawberries, Raspberry Cream, and French Vanilla. Topped with Skin-Loving Bubble Frosting, decorative paper straw, and a themed shea butter soap. To Use Bubble Frosting: Crumble under warm, running water to create "Hollywood" style bubbles! Ingredients: Sodium Bicarbonate, Cocamidopropyl Betaine, Mica.  How To Use a Bathbomb: Place product in clean warm bath water during your soak and enjoy the wonderful effects of aroma therapy. I encourage you to rinse your tub after use: colors will wash away, however, will stick to any grime buildup on the sides of the tub. Please make sure to exercise caution when exiting the tub as skin-softening oils may leave your tub slippery. 
Our items are not indestructible! To ensure a long and happy life, treat your goodies with care. Store all cosmetics at in cool, dry area until you're ready to use.
Ingredients: Sodium Bicarbonate, Citric Acid, SLSA, Polysorbate 80, Sunflower Oil, Essential Oil, Fragrance, Mica
Consolation Prize: 15% off your entire order on VioletandSuds.com
Anyone who enters but doesn't win the All The Boys To The Yard Bubble Cake Bath Bomb will receive a code to unlock the discount.
Giveaway Status:
Winner Selected

03/26/2019

Violet and Suds has received up to 296 karma for delivering the prize!
These were the winner's odds
Yet more giveaways for you (new and somewhat related)
---
All Comments (2)
I agree with Ginger! The website has some wonderful items & donates to cat rescues - what's not to like? :D

Really cute stuff on your site!