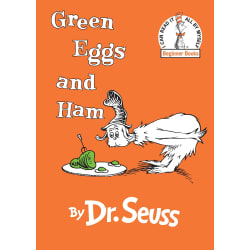 More details:
Winner did not receive prize
2 Comments
Giveaway: Spot On Learning, Enter for a Giveaway for the Book of the Week!
(Delivered)
Win a free book of the week from Tot Spot Daycare.

Prize: Green Eggs and Ham
Available on larsen-day-care.myshopify.com
Estimated Value: $7.00
Dr. Suess's Green Eggs and Ham is Tot Spot Daycare's book of the week. We are currently selling for $3 off of the regular in store price.
Consolation Prize: 5% off!
Anyone who enters but doesn't win the Green Eggs and Ham will receive a code to unlock the discount.
Giveaway Status:
Winner Selected

05/01/2019

Tot Spot Daycare has received up to 311 karma for delivering the prize!
These were the winner's odds
Yet more giveaways for you (new and somewhat related)
---
All Comments (2)
Hmm. No contact information for the sponsor and their website no longer exists (if it ever did). :-/

Hooray hooray! I have good reading material for my nieces and nephews. ^__^