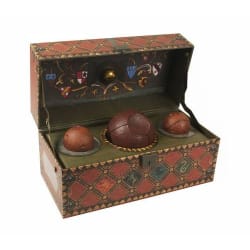 Giveaway: Sport Memorabilia!
(Delivered)
Do you collect sports memorabilia? Then this is for you!
From the best sport that real¹ sports people play in the very real¹ world, a most certainly real¹ set of quidditch balls! Meant to just sit on a shelf inside their fanciful treasure chest case and never see any use because, despite your best efforts, you're not a magical being. Though fear not! You can look at the balls on your desk, on your mantle, even on your mattress, (though we're not sure why you would want to do that last one, but hey; whatever floats your boat).
Also includes poster, unmovable golden snitch and serious Harry Potter geek cred.
¹ not real at all; please do not hit your friends with these bludgers. They are small, hard, and heavy.

Prize: Sport Memorabilia! prize
Available on amazon.com
Estimated Value: $23.00
Giveaway Status:
Winner Selected

06/30/2016

Wanderlink has received up to 2411 karma for delivering the prize!
These were the winner's odds
Yet more giveaways for you (new and somewhat related)
---
All Comments (3)
aohelaman - 06/30/2016 8:45 a.m. (direct link)

21 for passing now

I saw it at 14 for a little bit! The Quidditch World Cup must be starting soon!

13 karma for passing, wow.