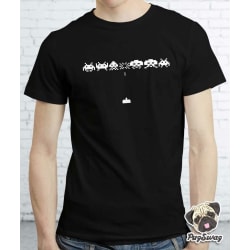 Giveaway: Space Invaders - After It Was Cool but Before It Was Cool Again
(Delivered)
Space Invaders street cred has a long and storied history, whether you were among the first to play the rad arcade and Atari games of the early 1980s or among the first to embrace the enemy alien image and game sequence references of the 2000s.
The 20ish-year gap between these popularity spikes is not a coincidence, as it roughly corresponds to the time between generations. Following that pattern, you better start stocking up on your Space Invaders iconography now because the 2020s, and the next ripple in popularity, is nearly upon us!
Before you start panicking (because you totally should!!!), this giveaway can help you get your collection started and past sponsor Comet Culture can help get you the rest of the way.

Prize: Space Invaders Gamer Gaming Retro Funky Arcade Tshirt
Estimated Value: $11.51
Item Type: Tops
Tops Type: Tees
Gender: Men
Style: Fashion
Collar: O-Neck
Pattern Type: Letter
Sleeve Style: Regular
Material: Cotton
Fabric Type: Knitted
Brand Name: PADEGAO
Hooded: No
Sleeve Length(cm): Short
These were the winner's odds
Yet more giveaways for you (new and somewhat related)