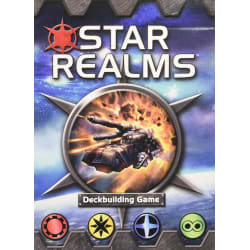 Giveaway: Space combat, building, trading but definitely not pasta
(Delivered)
If you liked our Pasta La Vista giveaway you will love this Star Realms deckbuilding game!
Though to be quite clear, even though this game is easy to learn, with rich gameplay it cannot grate cheese or even measure and serve pasta. That said, the game is both portable and expandable with the initial deck supporting two players but still being able to fit in a pocket. Each deck can also be combined with others, not in the same way you would combine two kitchen utensils into one, but rather to support even more players!
Did I mention that in a game of Star Realms you will often find yourself having to choose between grating cheese trading, measuring pasta building, or serving pasta destroying? Great stuff. Well got to go, for some reason all of this strategy game talk is making me hungry!
Prize: Star Realms
Available on amazon.com
Estimated Value: $15.00
Star Realms is a spaceship combat deckbuilding game designed by Magic Pro Tour Champions and Hall of Famers Darwin Kastle and Rob Dougherty (developer and cofounder of the Ascension Deckbuilding Game). Star Realms is the winner of several awards, including the 2015 SXSW Tabletop Game of the Year award, four Golden Geek Awards for Best 2-Player Game, Best Card Game, Best Indie Game and Best Handheld Game, two Dice Tower Awards for Best Two-Player Game and Best Small Publisher, and Best Card Game: Fan Favorite at Origins 2015.
The game offers all the thrills of traditional trading card game style combat, combined with the fun of a deckbuilding game. Play powerful ships, destroy enemy bases or blast your opponent directly on your way to victory!
Giveaway Status:
Winner Selected

08/19/2018

Wanderlink has received up to 3282 karma for delivering the prize!
These were the winner's odds
Yet more giveaways for you (new and somewhat related)