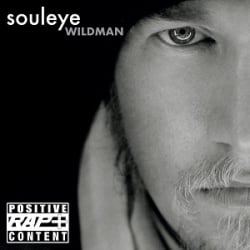 More details:
Winner did not receive prize
1 Comment
Giveaway: Souleye - Wildman
(Delivered)
Rap artist, Souleye attracts audiences across the globe with his spiritually stimulating rhymes and cohesively blended rhythms of old school hip hop, soul and electronic music. The Los Angeles based rapper expands his past experiences and unfolds them with reflective and engaging thoughts that are produced into his poetic music; allowing him to build a deeper connection with his fans. The Souleye experience is one of body, spirit, intellect and a combination of social and personal commentary. With stratospheric instrumental hooks and uplifting consciousness-raising lyrics, Souleye continues to expand what is available for rap-loving audiences who have a strong distaste for misogyny and patriarchy and yearn for more. The one-of-a-kind artist's melodic brand of hip-hop and velvet-like vocals pays homage to the genre's past while blazing a new trail into the future.
His new album offers a mindful and musically engaging listening experience. With innovative lyrics and genre bending singles, this album occupies the space between a traditional compilation record and a concept album. The album includes focus tracks such as, "Follow Your Heart," "Snow Angel" (Ft. Alanis Morissette), "Hip Hop Medicine" (Ft. Dustin Tavella), "Classic" (Ft. Chantal Kreviazuk, Chachillie), and the latest single and title-track, "Wildman" (Ft. Lynx). Enter to win a copy of WILDMAN! Only 3 winners will be selected, U.S. only.

Prize: Souleye - Wildman Album
Available on itunes.apple.com
Estimated Value: $9.99
Enter to win a copy of positive rap artist, Souleye's latest album 'Wildman'!
Giveaway Status:
Winner Selected

11/10/2017

Miles High Productions has received up to 82 karma for delivering the prize!
These were the winner's odds
Yet more giveaways for you (new and somewhat related)
---
All Comments (1)
quozl - 12/10/2017 9:47 p.m. (direct link)

I haven't heard anything from the sponsor about delivering this.